Overview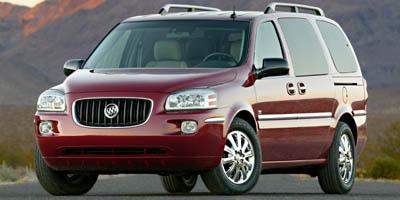 The Buick of minivans is generally what we'd expect a Buick to be: big, quiet, comfortable and loaded with conveniences.
If anything stands out about the 2006 Buick Terraza, it's how well this minivan takes care of its passengers. It comfortably seats seven in a nicely designed and finished interior. The base Terraza CX is loaded with standard features, including a DVD entertainment system for rear passengers and a one-year subscription to GM's in-demand OnStar tele-aid service. Terraza is also available with GM's unique PhatNoise removable hard drive, which allows the onboard entertainment system to play or display MP3 music files, photographs, video games and the latest movie releases.
Terraza's build quality meets or beats the best in the class, and it has the minivan essentials covered. It comes standard with a V6 engine, and it's available with all-wheel drive. With the optional towing package, it can pull 3,500 pounds.
For 2006, the Terraza offers side-impact airbags for rear passengers, and Buick has increased the standard warranty to a premium-grade four years or 50,000 miles. Yet the biggest news for 2006 is an optional 3.9-liter V6 with variable valve timing and a 22 percent increase in horsepower. Choose this engine and Terraza morphs from one of the least powerful minivans available into one of the most powerful.
That's good, because if Terraza falls short of the best in class, it's most obvious in the driving. The standard 3.5-liter V6 is adequate, no more. And while Terraza is quiet and comfortable in the Buick tradition, it feels less responsive than the minivans from Chrysler, Honda, and Toyota. That more powerful 3.9-liter V6 should help.
For now, Terraza's real strength lies in other important minivan virtues, and to considerable extent in its value. Comparably equipped, it retails for less than the Chrysler Town & Country or a loaded Toyota Sienna, and that's before the incentives GM frequently offers.
Like its contemporaries from Chevrolet, Pontiac and Saturn, Terraza stands on more solid competitive ground than previous GM minivans. It shares its chassis and mechanicals with the Chevy Uplander, Pontiac Montana and Saturn Relay, and the differences are defined by minor styling changes and varying equipment levels. While each brand may indeed appeal to different buyers, smart consumers will shop them all. Price differences among the GM minivans amount to a few dollars when they are comparably equipped, and all are available with the most popular features. The choice may come down to satisfaction with a particular dealership.
Like its GM counterparts, Terraza's long-nose, truck-style exterior design is intended to create the image an SUV more than a minivan. We say no one will mistake the Terraza for anything but what it is: a minivan with the flexibility, features and family-friendly conveniences minivan buyers expect.
Model Lineup


The 2006 Buick Terraza is offered in two feature-packed trim levels, with standard front wheel-drive, a 196-hp 3.5-liter V6 and four-speed automatic transmission. Both models have seating for seven and dual sliding rear doors. All-wheel drive and an upgrade V6 are optional on both trim levels, but you can't have both awd and the more powerful engine.

The Terraza CX ($27,250) comes with cloth upholstery, air conditioning, tilt wheel, remote keyless entry with programmable locks, power driver's seat, power windows, a six-speaker AM/FM/CD MP3 stereo system, a rear-seat DVD entertainment system, and rear seats that can be folded or removed. It features GM's interior roof rail system, with an overhead console and accommodations for snap-in accessory options. Plastic wheels covers are standard on 17-inch steel wheels. Versatrak all-wheel drive is optional ($3,000).

The Terraza CXL ($29,750) adds leather-trimmed seats with power adjustment for the front passenger and position memory for the driver, power rear doors, rear climate control, ultrasonic rear park assist, audio controls on the steering wheel, a rear cargo organizer, a 115-volt (house-current) power outlet in the rear cargo area, and a first aid kit. Alloy wheels are standard. Versatrak all-wheel drive is optional ($3,500).

The 240-hp 3.9-liter V6 ($500) is optional on both models.

Options for the Terraza CX include most of the features standard on the CXL, including the rear cargo area organizer ($285), rear air conditioning ($475), alloy wheels ($325), and a left-side power sliding door packaged with rear park assist ($545). Both trim levels are available with a remote starter ($190), six-CD changer ($295), XM Satellite Radio ($325), PhatNoise ($675), heated front seats ($275), and polished alloy wheels ($650).

Safety features that come standard on all models include ABS and traction control. Front-wheel-drive models come with GM's StabiliTrak electronic stability control. The OnStar subscription includes Advanced Automatic Crash Notification, which sends crash data to participating 911 centers to help them dispatch the appropriate life-saving personnel and equipment. Crash protection includes dual-stage front airbags. Side-impact airbags for first and second-row passengers are standard on Terraza CXL and optional on CX ($750). Terraza is not available with the head-protection airbags offered is some other minivans, but it scores well in government crash tests. The National Highway Traffic Safety Administration (NHTSA) gives it five stars for a frontal impact, and four stars for side impact with the optional side airbags.
Walkaround
Buick calls the Terraza a crossover sport van, comparing its appearance to an SUV and highlighting design cues like its long hood, big grille, big wheels and blacked-out pillars. If you like the look, great, but don't fall for the SUV stuff.
Terraza looks like a minivan with a prominent snout, and in the functional sense it is a minivan, with minivan advantages such as low step-in and load lift heights compared to the typical SUV. Of course, with 5.5 inches of ground clearances, owners shouldn't expect SUV-style off-road performance, either. When equipped with all-wheel drive, Terraza is more like an all-weather family transport unit with some flair.
The big vertical-toothed grille and integrated headlamps emphasize Terraza's long nose. From there rearward, the Terraza is adorned only by a single strip of chrome on each side. The rear side windows are tinted dark, and the roof is decked with a chrome-railed roof rack. There are sliding rear doors on both sides, power-operated from the dash or key fob on the high-zoot CXL. Given Terraza's premium pretensions, it's odd that there is no power assist for the rear liftgate.
The most lasting impression after a Terraza walkaround? Perhaps the quality fit and finish. The seams on our test vehicle matched precisely and consistently, and the paint had a deep luster with very little orange-peel effect. It was among the best we've seen from GM and as good as any other minivan currently offered, including those known for their build quality.
The Terraza's outside mirrors fold tight against the side windows to help squeeze it into tight parking spots, and the beep-beep-beep of the rear park assist, standard on our CXL, is welcome in most urban parking situations.
We applaud GM's effort to make options for the physically challenged off-the-rack features. Terraza is available with a Sit-N-Lift power seat system ($4,795) that provides easy access to the right-hand second-row seating area. Operated via remote control, the power bucket seat rotates and then extends out of the vehicle before lowering near pavement level for easy entry and exit.
Interior Features
From the passenger space, the Terraza stacks up well against its minivan competition, bar none. Its interior is major improvement over any of GM's previous minivans.
Both finish and materials are almost surprisingly good, considering some of GM's efforts just a few years ago. Plastics in the Terraza are generally rich in touch and appearance. Some media have bashed the fake wood trim, but we find it as good as that from some luxury brands that cost considerably more. The forward seats in our Terraza CXL were upholstered in smooth, sturdy leather.
The black-and-white gauges are large, and trimmed with a nice chrome accent. The script is large, too, and sharply legible. The instrument panel, center console and door panels are well integrated, flowing nicely from one panel to the next. The design is straightforward, and nothing in here will confuse anyone for very long.
The center stack is particularly well done. Audio controls sit above the climate controls, as we like them, and the knobs are not only big, but pleasant to touch. There's a pair of pull-out cupholders and a swing-out storage bin at the bottom. There's also a folding utility table between the front seats with more cupholders and indents to keep phones or glasses handy without allowing them to slide off.
We like the Terraza's cabin, but it isn't perfect. The bins built into the back of the front seats are well designed, with secure storage for headsets and discs. Yet the plastic they're shaped from is hard, and they feel flimsy. And the view through the rear-view mirror is about as obstructed as a mainstream vehicle gets. It's noticeably restricted by the rear-seat headrests, with a relatively narrow scope.
Rear-seat DVD entertainment is standard, not a pricey option, and the system has three-mode operation, so the DVD, CD and radio can be played simultaneously through appropriate speakers and wireless headsets.
GM's PhatNoise removable hard drive remains unique in the auto industry. It snaps into Terraza's interior roof-rail system, where it's wired into the audio-video system. It removes easily and connects to any computer through a USB port. With 40 gigabytes of storage space, it can hold 40 full-length movies, video games, thousands of digital photos, up to 10,000 songs in MP3, WMA or WAV format, or any combination thereof. Voice browsing allows most songs and movies to be selected by name. All told, with a good foundation in the fundamentals and features like PhatNoise, Terraza has the conveniences that make family driving more pleasant. When it comes to passenger/cargo flexibility, Terraza does quite well, too.
The standard interior layout is familiar in minivans: four captain's chairs and a three-place rear bench. The second-row seats are as tall and supportive as those in front. They'll accommodate adults, not just kids, in real comfort. The third-row bench is no problem for passengers through age 15 or 16, even on long drives, though access is not the easiest. The pathway between the individual second-row seats is narrow. From the outboard side, there's a one-button mechanism that folds the second seatback forward and slides the entire seat toward the front. However, it doesn't make climbing in back much easier than walking between the second-row seats.
The third-row bench seat is split, and any or all of the seatbacks quickly fold forward, creating an expansive, essentially flat load floor from the driver's seat rearward. The rear seats can be removed without too much difficulty, but they don't tumble into the floor as they do in minivans from Chrysler, Ford, and Honda. With the seats in place, you get 27 cubic feet of cargo space, or a lot more than the trunk in a large sedan. With the third row folded you get 74 cubic feet, and with the rear seats removed you get 136 cubic feet. That's twice as much as what the full-size Cadillac Escalade SUV offers, but about
Driving Impressions
The Buick Terraza offers a soft, smooth ride and is best outfitted with the optional 3.9-liter V6. This engine generates 240 horsepower and 240 pound-feet of torque, compared to 196 horsepower and 213 pound-feet for the standard 3.5-liter V6. That quickly, the optional engine lifts the Terraza from the low-end of the minivan power spectrum to somewhere near the top.
We've sampled the 3.9-liter V6 in other GM products, and it delivers a nice, broad power curve, with lots of acceleration-producing torque at all engine speeds. We'd also guess that in real-world driving, it will not produce a significant drop in Terraza's fuel mileage, compared to the standard 3.5-liter V6. The problem is that the 3.9 is only available in front-drive Terrazas. Until we can evaluate the new engine in this minivan, we can't offer snowbelt drivers a sound recommendation: all-wheel-drive, or front drive with the big V6.
Our hunch is that we'd take the bigger engine, even for places where the snow flies and the roads freeze. That's because that standard V6 is the weakest link in the Terraza package. If this Buick falls off compared to the best minivans, it's most obvious in the driving, and the single biggest reason is the engine.
The fundamental design of the cast-iron 3.5-liter V6 goes back decades, which doesn't necessarily mean it's bad. At interstate speeds the standard engine is quiet and relatively smooth. There's enough quick-burst acceleration for safe freeway merging or left turns during rush hour, and excellent transmission response helps take full advantage of the power that's available. GM makes some of the best automatic transmissions available anywhere. Terraza's has four speeds (compared to five in some competitors), but it responds quickly and appropriately to the driver's action on the gas pedal. It never hunts indecisively for the right gear, and shifts up or down as smooth as can be.
Given all that, the standard 3.5-liter V6 isn't likely to generate emotion of any sort, let alone a thrill. The numbers speak for themselves: Terraza's standard engine delivers less horsepower and torque than any in the class (except other GM minivans), and it's noticeable on the road. When it comes to high-rev power, smoothness or fuel economy, it can't match the overhead cam engines in some competitors, and it can't match the low-end grunt of cam-in-block engines in others. We recommend you test drive the 3.9-liter V6.
GM's VersaTrak fulltime all-wheel-drive system works very well in snow, slush and ice, and we heartily recommend it. VersaTrak's mechanicals are relatively simple, and add less weight to the vehicle than many all-wheel-drive systems. There are no buttons or levers to engage, yet in operation VersaTrak can do things some similar systems can't. When the Terraza's front wheels lose grip, the system automatically shifts engine power to the rear wheels, greatly improving the odds of continued forward mobility. Yet VersaTrak can also shift power from side to side between the rear wheels. If the inside wheel encounters slush build-up near the center of the road, VersaTrak sends power to the outside wheel with grip.
Front-wheel-drive Terrazas come standard with StabiliTrak, GM's electronic stability system. This is valuable, too. Let's say a driver inadvertently drops the right-side wheels off the pavement and onto a gravel shoulder. The right-side wheels would tend to lose grip on the low-friction gravel. Without StabiliTrak, the left-side wheels would continue to grip as before, quite possibly directing the vehicle toward the center line or opposite lane. StabiliTrak senses the disparity in traction and intervenes by applying brakes to the outside wheels or cutting engine power. The electronics help prevent a sharp change in direction and help the driver to regain full control without overreacting or overcorrecting. In short, Sta
Summary
The Buick Terraza is quiet, orderly, generally understated, and very well equipped for the money. Even the base model comes with sought-after features like GM's OnStar system and rear-seat DVD entertainment. With optional all-wheel-drive, it offers the foul-weather security of an SUV, without many of the SUV drawbacks. Build quality is first rate, and the cost-feature ratio is appealing. Terraza is fairly easy to switch from passenger to cargo hauling, though it lacks the tumble-in seat storage made famous by Chrysler's minivans. The standard V6 is not abundantly powerful, so we recommend test driving the larger, upgrade engine.
Model Line Overview
Base Price (MSRP)
$27,250
Model lineup:
Buick Terraza CX ($27,250); CXL ($31,190); CX AWD ($30,250); CXL AWD ($33,250)
Engines:
196-hp 3.5-liter ohv 12-valve V6; 240-hp 3.9-liter ohv 12-valve V6
Transmissions:
4-speed automatic
Safety equipment (Standard):
front airbags, ABS, electronic stability control, traction control, OnStar tele-aid system
Safety equipment (Optional):
side-impact airbags, all-wheel drive, rear park assist
Basic warranty:
4 years/50,000 miles
Assembled in:
Doraville, Georgia
Specifications As Tested
Model tested (MSRP):
Buick Terraza CXL AWD ($33,250)
Standard equipment:
dual-zone climate control, leather seats with eight-way power adjustment in front and position memory for the driver, power windows, power mirrors, power locks, remote keyless entry, AM/FM/CD player with eight speakers and steering wheel controls, DVD rear entertainment system, overhead modular storage system, cruise control, Driver Information Center, universal garage door transmitter, deluxe interior lighting, automatic headlamps, rear-window defogger, retained accessory power, dual illuminated vanity mirrors, sun visors with extensions, floor mats; auxiliary rear climate control, 115-volt power outlet in rear, cargo organizer, dual power sliding doors, aluminum alloy wheels
Options as tested:
XM Satellite Radio ($325); remote starting ($190); heated front seats ($275); polished aluminum wheels ($650)
Destination charge:
740
Gas Guzzler Tax:
N/A
Price as tested (MSRP)
$35,430
Layout:
all-wheel drive
Engine:
3.5-liter ohv 12-valve V6
Horsepower (hp @ rpm):
196 @ 5600
Torque (lb.-ft. @ rpm):
213 @ 3200
Transmission:
4-speed automatic overdrive
EPA fuel economy, city/hwy:
17/23 mpg.
Wheelbase:
121.1 in.
Length/width/height:
205.0/72.0/72.0 in.
Track, f/r:
62.4/62.9 in.
Turning circle:
40.4 ft.
Seating capacity:
7
Head/hip/leg room, f:
39.8/59.9/39.9 in.
Head/hip/leg room, m:
38.9/61.2/38.9 in.
Head/hip/leg room, r:
38.1/48.7/36.2 in.
Cargo volume:
136.5 cu. ft.
Payload:
N/A
Towing capacity:
3500 lbs.
Suspension F:
independent
Suspension R:
independent
Ground clearance:
5.5 in.
Curb weight:
4664 lbs.
Tires:
P225/60R17 Continental Touring
Brakes, f/r:
vented disc/vented disc with ABS in.
Fuel capacity:
25 gal.