Silly Mercedes-Benz
. It thought it could just resurrect a nameplate that had been dead for decades – Maybach – with a line of enlarged, restyled super S-Classes and the world's über-rich would suddenly ditch their Rolls-Royces and Bentleys en masse and buy these newGerman limos in droves. As we all know, the grand plan worked a lot better on paper than it did in practice: Other than the scrumptiously-sinister Excelero concept, the most noteworthy thing to come out of the decade-long Maybach revival was the video for Kanye West and Jay-Z's "Otis," which depicted the pair slicing up a German-plate 57 and transforming it into a brain-cramping big-buck buggy. Yeah, definitely not how Dr. Z drew it up on the chalkboard (or how Coach Z would have drawn it up on the chorkberd).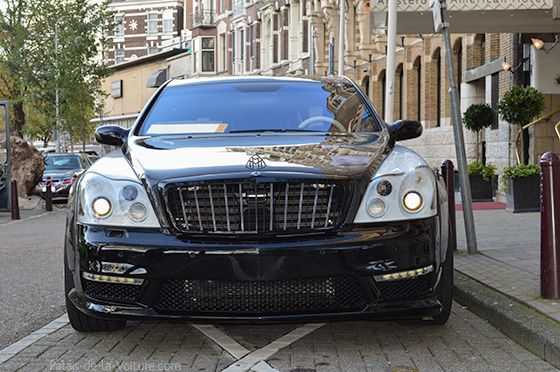 However, rare is the case that the automotive aftermarket as a whole has been intimidated by a vehicle that saw limited showroom success. No, late model Maybachs will never enjoy the same kind of popularity as, say, an E46 M3 or a Mustang, but you will see one treated to a cosmetic and/or mechanical makeover every now and then. Today, it's the turn of Knight
Starting with a 57S (the sporty version of the short-wheelbase Maybach), Miami-based Knight Luxury has added a bunch of custom carbon fiber pieces, including new front and rear fascias, rear diffuser, hood and trunk lid. The center part of the body (which was painted in contrasting colors on non-S models) is wrapped in carbon-fiber-look vinyl, as is the roof and each of the four 24" wheels. Finally, the beltline area of the car (i.e. the tops of the fenders and the parts of the doors immediately under the windows) is finished in white, and extends into masks on the top sections of the taillight lenses. This thing may be a super-luxury sedan, but it now looks much less stately than it does sinister.
Inside, the changes are at least as dramatic, maybe even more dramatic. The seats, dashboard, door panels and center consoles are trimmed in white and black leather with red accents. There are also carbon fiber pieces on the dash, door panels and consoles, and embroidered red Knight Luxury logos on the seatbacks, center console and even the door lock knobs. The trunk is also appointed in the same rich materials. And as far as on-board tech goes, the folks at Knight Luxury installed an LTE mobile data hotspot, an Apple TV module, a pair of iPads that live in the front seatbacks, an Apple keyboard, a rearview camera, and an even more potent sound system.